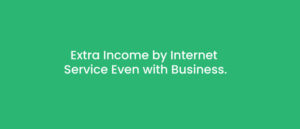 Extra Income by Internet Service Even with Business
We all know that Sylhet Division consists of four districts; Habiganj, Moulvibazar, Sunamganj,
and Sylhet Sadar. Among these four, Sunamganj is the most attractive district which is known as
a land of natural beauty. And there is a Upazila named Jagannathpur which has some remarkable
tourist spots; Hajarot Achim Shah Mazar, Pailgaon Zamindar house, The tomb of Radharaman
Dutta, The holy shrine of Hajarot Shah Shamsuddin (RA), etc. However, as this district is
predominantly under haor, the internet connectivity, as well as the mobile network service is not
so good. In this circumstance, by making sure good internet connectivity, the Wi-Fi hotspots and
broadband services of Shadhin Wi-Fi have quickly won people's appreciation. But behind this
achievement, a businessman named Sohel played an important role.
Sohel professionally businesses with cylinder gas. But due to low income from this sector, he
was thinking for a long time about how to make extra money. For this purpose, later he started
working with Shadhin Wi-Fi which is known as Gram-Banglar Internet. And finally, he could
provide better, uninterrupted internet connectivity and high-speed internet service to his
customers. At present, he has become self-reliant working with the support center of Shadhin
Wi-Fi and in the meantime, he has generated employment opportunities for 7 people to make
them self-reliant too. So, it's believed that by the end of this year, he will be able to promote
such kind of more employment opportunities.
But how could you manage to work in such a completely different sector alongside your main
business? Have you faced any problem? In response to these questions, Sohel said, "NO. As
Shadhin Wi-Fi operates everything by its developed software and even as it has branding and
marketing support, I could work easily with the support center of Shadhin Wi-Fi alongside my
professional business."
Sohel also mentioned that Shadhin Wi-Fi has a unique one called the freelancer package that
offers 24-hour dedicated service to those who are freelancing staying in village or mofswal. In
fact, by using this package, my local areas' freelancers and e-commerce entrepreneurs has greatly
benefited today. On the other hand, there was a tremendous problem in my village with net speed
too for a long time. Later it has been solved by Shadhin Wi-Fi with a very effective approach.
Thus, for all support, he could make extra money by working with the Internet service of
Shadhin Wi-Fi alongside his main business.
However, by observing this phenomenon, Mobarak Hossain, the founder of Shadhin Wi-Fi,
subjected that Shadhin Wi-Fi is constantly working to generate such kind of employment
opportunities for thousands of young people and entrepreneurs like Sohel. Besides, Shadhin Wi-
Fi is also playing a significant role in building a digital Bangladesh along with accomplishing the internet needs of rural people. Already, Shadhin Wi-Fi has been able to reach 1 thousand and 56
villages to give internet service.