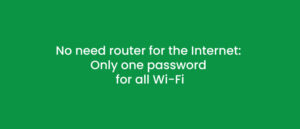 No need router for the Internet: Only one password for all Wi-Fi
Manoharganj is a Upazila of Cumilla district which is a very attractive and well-known
commercial place. From a geographical point of view, it is located at the middle point of the
three unions. And there is a resident named Masud who had been offering internet service in the
area for a long time. However, once upon a time he would like to provide better and
uninterrupted internet service to his subscribers. For this purpose, he joined Shadhin Wi-Fi to
ensure high-speed internet service.
At present, Masud is providing internet services by taking the help of the support center of
Shadhin Wi-Fi which quite helped him to be self-reliant today. In the meantime, he has made
sure employment opportunities for 7 people and he determined that he will be able to create the
opportunity for several people by the end of this year.
After that, Masud addressed that the freelancer package of Shadhin Wi-Fi is very unique.
Because, the package provides 24 hours dedicated service to freelancers so that they can get
high-speed internet despite living in remote regions- mufswal or village. For instance, the
freelancers and e-commerce entrepreneurs of my Upazila are being benefited greatly by using
that. Actually, [Inter] Net speed was a prominent problem here for its users in many times. To be
honest, Shadhin Wi-Fi has already played an active role to solve this problem.
Masud also said that in the earlier period when an Internet user went from one area to another
area, the broadband internet connection would be cut off generally because a router could serve
within a certain range. But since the proliferation of Shadhin Wi-Fi there, this problem is no
more. Now it has been possible to take net service without any router even if an Internet user
goes from one area to another area, just for a special device of Shadhin Wi-Fi which is put on the
outside of the home. Even the user doesn't need to ask for the router's ID-password in another
area as before. The user' device automatically connects with the network. But this router less
internet service and one password for all Wi-Fi services have got only in Shadhin Wi-Fi.
After-all, by following the overall things, Mobarak Hossain, the founder of Swadhin Wi-Fi,
pronounced that Swadhin Wi-Fi is constantly working to generate such kind of employment
opportunities for thousands of young people and entrepreneurs like Masud. He added that one-
day Shadhin Wi-Fi will be the sole hope of the people of rural ground in the Internet context. In
the meantime, Shadhin Wi-Fi has been able to reach 1 thousand and 56 villages to give internet
service.